We put this last not because it is the least important tool.
In fact, it is the most acclaimed tool!
If you've read some LeadsLeap reviews, you're very likely to see bloggers raving about our unique link tracking system.
Why is it so special?
Because it is probably the only tracker that allows you to track the surfing duration of visitors to your affiliate links or third-party links.
You see, conventional link trackers only track clicks.
They can't tell whether the clicks are real visitors, how long they have surfed on your site and whether they have taken actions.
You may be thinking, "Well, there is Google Analytics."
Google Analytics only works if you are the webmaster.
If you want to track a third-party link, such as an affiliated link, you can't!
But with The Real Tracker, you can!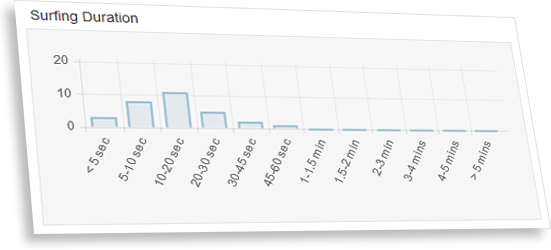 Why surfing duration is important?
You see, bots nowadays can simulate human visits and fool trackers into believing that they are real.
Trying to fight with these bots is not easy.
In the process of fighting with them, we realize one thing...
These bots don't surf!
Their sole objective is to generate visits that look real to normal trackers and cheat your advertising money.
If you can measure the surfing duration of your visitors, you can effectively figure out whether the traffic you're getting are real visitors.
What can The Real Tracker do?
With The Real Tracker, you'll know long your visitors have actively surfed your links, whether they have taken any action, and many other tracking stats.
But that's only the tracking aspect.
There's more!
You can insert opt-in popup into the links that you track! Yes, even if you don't own the site!
This means you can build your own list while promoting other people's product.
You can add an ad bar and cross promote other offers to any link you track.
You can rotate those links, add different weightage and different limit for different links.
You can create tracking sources on the fly, no need to login all the time!
The cost?
It's free!
Our members LOVE this tracker!
From time to time, we will receive emails from members telling us how they manage to get refunds from websites that sell them bogus traffic.
Here is someone who has blogged about his experience:
Source: infiniteleadgen.com